Cashman Kennel's History
Cashman Kennel's History
Cashman Kennels has been breeding, raising, and training quality Labrador Retrievers since 1984 and is owned by Matt and Karen Cashman. Through selective breeding, the Cashman's goal is to produce exceptional, versatile waterfowl and upland Labradors. Their history begins with Matt, an avid hunter, who owned Natasha (Tasha). He bred her to Full Choke which produced an outstanding litter. Karen had trained horses for years and took an interest in training their labs, along with Matt. Soon, both Matt and Karen were learning all they could about training their dogs to compete successfully at the Master level in hunt tests. Also, they became hunt test judges.
Below are more details regarding Cashman Kennels' history with Pointing Labradors, their past history with Cashzinger Kennels, and their history with Field Trial dogs. Also, below are two lists of Labradors that pertain to the Cashman Kennels' history.
History of Cashman Kennels and the Pointing Labrador: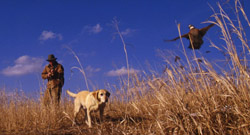 Few people know the history of the Pointing Labrador associations began with Matt Cashman's first litter in 1984. The first association was called the International Pointing Labrador Association (IPLA) which was followed by the American Pointing Labrador Association (APLA). This first litter was sired by Full Choke of Chub Lake and bred to Matt's dog, Lady Natasha of the Whispering Cane (Tasha).Both were pointing labs. The breeding produced a pointing lab male named CP Alma's Bottom Ticker. Ticker pointed which lead to his owner starting the IPLA. Matt and Karen repeated the breeding and kept a female named MHR Lady Luka of Lennon Lake MH. One of the founders of the APLA bought a pup out of Luka which was his first pointing lab. Although they did not intend to breed for the pointing trait, it is common in the majority of their labs. The dogs discussed here are American bred Labradors. However, we have found the English dogs also seem to have a high tendency of passing the natural pointing instincts to their offspring. For more information regarding the pointing lab trait, see the Breeding Philosophy page.
History of Cashzinger Kennels' Stud Dogs: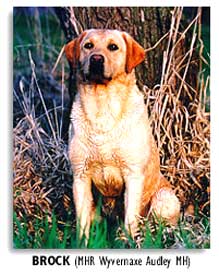 In 1990, the Cashmans flew to England and acquired two English Field Trial bred yellow males. One of these puppies became an exceptional, versatile Labrador Retriever named MHR Wyvernaxe Audley MH (Brock). He became one of the first nationally recognized English imported Master titled stud dogs in the country. The diversity of Brock's strengths is proven by his AKC and NAHRA Master hunting titles, Qualification at the 1995 NAHRA Master National, Runner-Up Champion in the 1994 US Open Pheasant Championship, three Show Champion points, and his ability to throw this diversity to his offspring. He produced numerous offspring with Master titles, a Show Champion and pointing labradors. Brock was co-owned with Terry Holzinger and their partnership was named Cashzinger Kennels. Success continued with their next stud dog who was 50% English and 50% American named MHR GMPR Rik's Risky Raider MH. It became apparent to them that by combing certain English and American lines, they can produce an outstanding all-around gun dog, like Raider. This knowledge greatly affected their breeding philosophy. For more information about their selective breeding practices and Raider, see the Breeding Philosophy page. Using their selective breeding knowledge, the Kennel grew to include these additional stud dogs - Cashzingers Red Line SH (Rusty), Cashzingers Special Brew MH, CP Cashzingers Coal Cuts Loose, MHR MPR Horse and Hunt Gabe MH, and MHR MPR Cashzingers Brier Tuck MH (Tucker).
History of Cashman Field Trial dogs: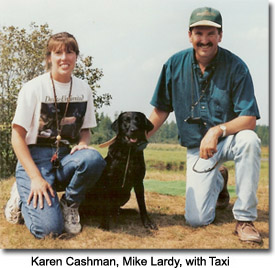 In 1993, the Cashmans partnered with Greg Oothoudt and co-owned several accomplished Labradors between 1993 and 1998. Their first dog trained for field trials accumulated 27 Derby points and earned her Qualified All-Age title before she was two years old. This lab's call name was Zinger. In 2001, under new ownership, she won the coveted National Field Trial Championship (NFC) title. Due to the time and resources required for excelling at field trials, while maintaining Cashman Kennels, Cashzinger Kennels, unrelated full-time jobs, and the birth of a son, the Cashmans had little choice but to sell their field trial dogs and end their Partnership with Greg. The Partnership owned several outstanding dogs that deserved to continue to their full potential under new owners. Their former dogs include NFC FC AFC Cashmans Fat Lady Zingin (Zinger), FC AFC Tailwinds Traveling Gypsy (Asia), High Points Code Red (AFC win), and Cashmans Gotcha Going MH (Open FC win).
2010 National Amateur Field Champion NAFC FC Fourleafs Ice Breaker, "BUSTER,"
NFC FC AFC Cashman's Fat Lady Zingin 2014 Inducted into the Field Trial Hall of Fame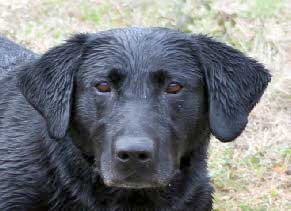 Buster has 75 all-age points and has qualified for six Nationals. He is special to Cashman Kennels because his bloodlines go back to our first breedings. Matt's first dog "Lady Natasha Whispering Cane" was bred to "Full Choke of Chub Lake". We kept a female name MHR Lady Luka of Lennon Lake MH. We bred Luka to our imported stud dog "MHR Wyvernaxe Audley MH" (Brock). This breeding produced "CPR Royal Knight of Champlin MH" This was Brock's very first litter and Greg Oothoudt's first dog. We also co-owned "2001 NFC Cashman's Fat Lady Zingin" (Zinger) with Greg. Greg purchased "Black Gold"s Markin Marti" from the repeat breeding of Zinger. Marti X Knight's breeding produced "Red Cedar River Queen" (Gypsy). Gypsy is the Mother of Buster. If you would like more information about Buster and see his pedigree you can check out his website at: http://www.fourleaflabs.com/buster.html
Listing of Labradors owned/co-owned by the Cashmans that reached the highest level in hunt tests (Masters) or field trials (FC,AFC):
MHR GMPR Rik's Risky Raider MH
MHR MPR Horse and Hunt Gabe MH
MHR MPR Cashzingers Brier Tuck MH (Tucker)
Cashzingers Special Brew MH
MHR Wyvernaxe Audley MH (Brock)
MHR Lady Luka of Lennon Lake MH
MHR Cashmans Black Java MH
MHR Cashmans Cattail Coba MH
GMPR Cashzingers Cattail Corky
MPR Brocks Golden Nugget
Cashmans Call Me a Taxi MH
Cashmans Fresh off the Vine MH (Vinny)
Cashmans Gotcha Going MH (FC open win)
NFC FC AFC Cashmans Fat Lady Zingin (Zinger)
FC AFC Tailwinds Traveling Gypsy (Asia)
Labrador puppies for sale MN